RELIABILITY, SAFETY, EASY USE, HIGH PERFORMANCE
… right out of the box!


Quick and easy installation of Movit and Elite

Tried and tested safety ensured

Reduced maintenance and exceptional operating life

Tried and tested reliability

No expansion issues

Developed to meet the needs on the field

Ancillary costs reduced

Long lengths of line feasible
1. PRESENTATION
Mobilis Elite®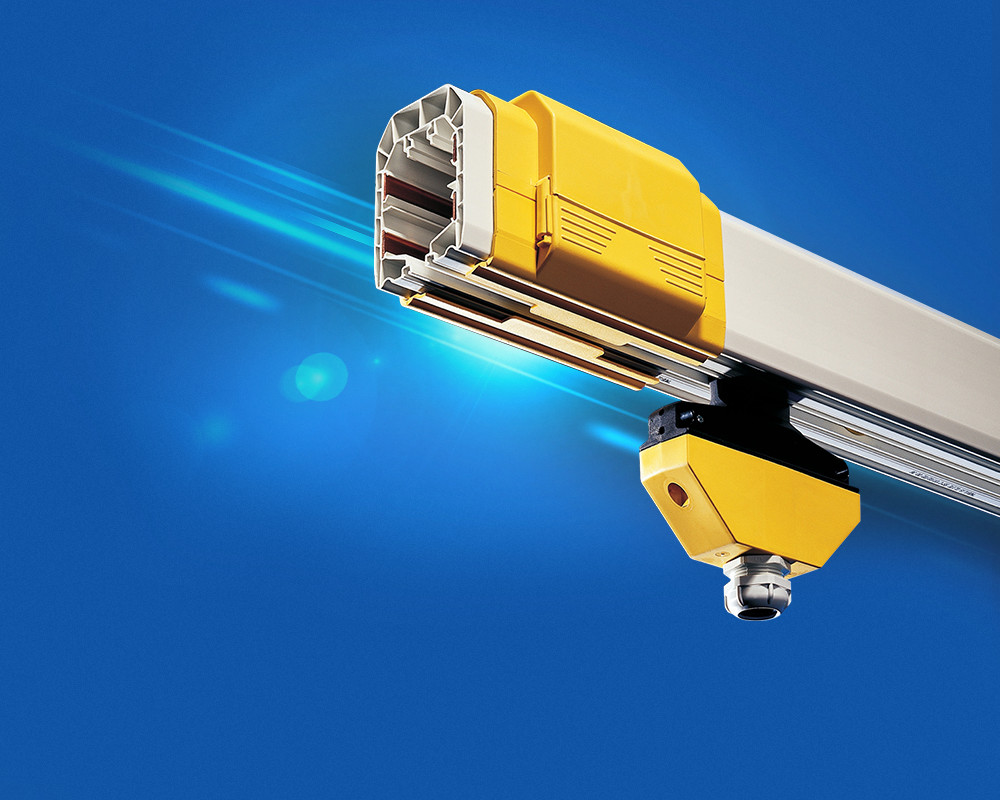 Multi-conductor Rail
Mobilis ELITE:
Quick installation:
Multiple pole lines with 4 or 5 pre-mounted conductors and many accessories to clip-on (no tools required)
Quick and easy connection:
Connection system with built-in self-breaking screws, guaranteeing tightening at optimum torque
Reduced voltage drop at connections:
The very large exchange surface, and tightening maintained at optimum torque allow reducing and controlling voltage drop
Excellent safety and operator protection:
The closed profile of the mounted line with the full set of accessories has a protection level of IP23, which means that the equipment is protected so that people cannot access the dangerous sections, even under the rain
Operating reliability:
The current collectors, tested against requirements stricter than the standards, are designed to run for several thousand kilometers, providing reduced maintenance of facilities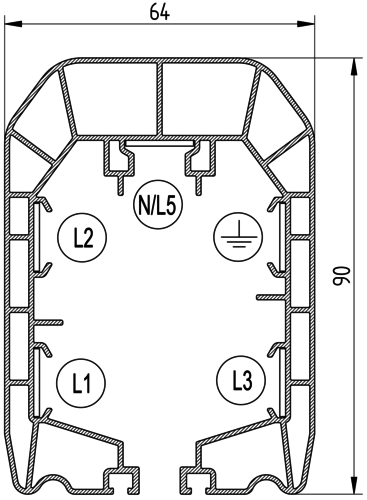 Number of poles : 4 or 5
Intensities : 12A, 20A, 40A, 60A, 100A, 160A, 200A
Maximum operating voltage : 750V
Protection Index IP23 according to EN60529

Complies with Standards EN60439-2, EN60204-32, EN61439-6
Mobilis Movit®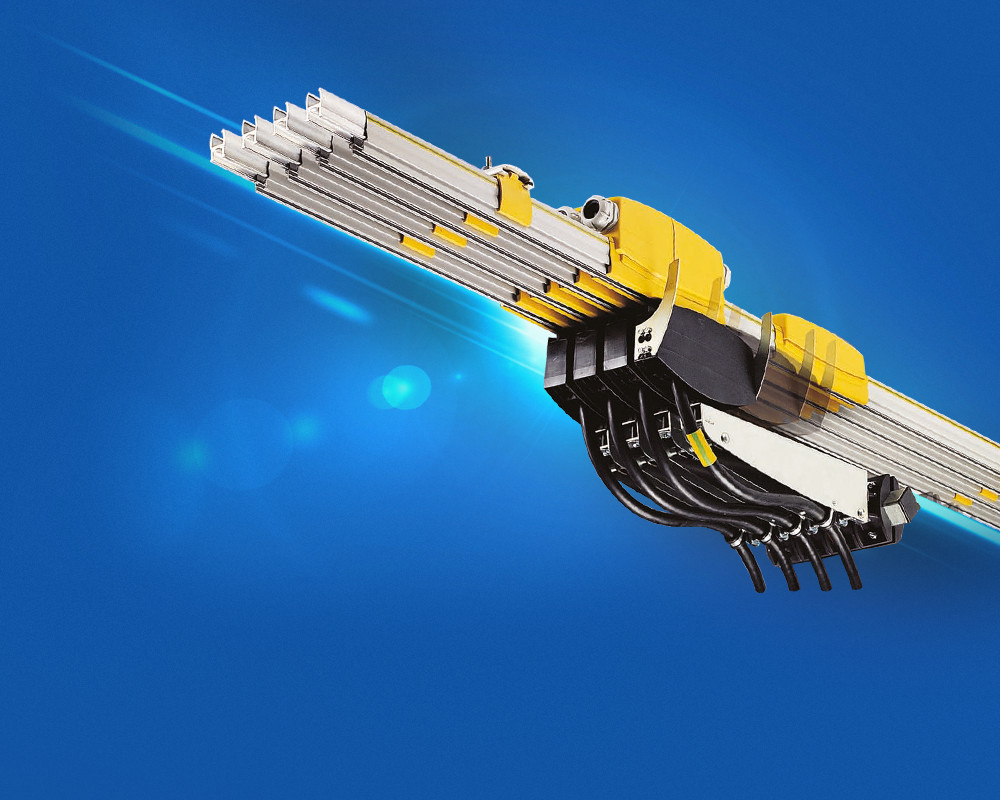 Single-conductor Rail
Mobilis MOVIT :
High speeds:
up to 600m/min
High currents:
up to 630A
High mechanical resistance:
H rigid profile and sturdy accessories, ideal where reliability, safety, and high performance are required
Optimized contact:
Collector contact under control due to provision for angular offset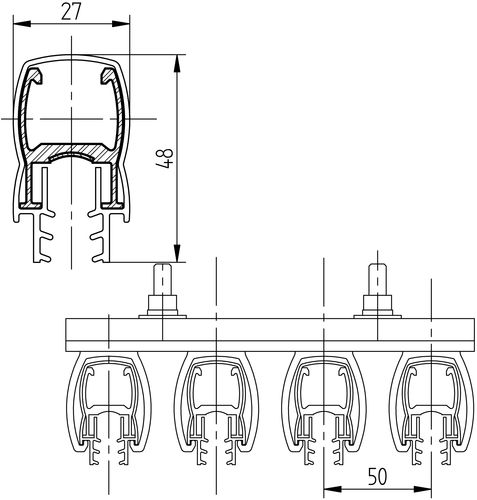 Number of poles: 1 to infinity
Intensities: 315A, 450A, 630A
Maximum operating voltage: 750V
Protection Index IP23 according to EN60529

Complies with Standards EN60439-2,, EN60204-32, EN61439-6
1. INTRODUCTION :
As a specialist of electrical supply rail manufacturing for mobile equipment since the seventies, the FELS Company has perfect knowledge and experience of the needs of the integrators, installers, and end-users on this market worldwide, and of the special features of such devices. Its two product ranges, MOBILIS Elite and Mobilis Movit have been designed to meet the requirements of international standards. They offer a long operating life due to their robustness, with wear parts strengthened to reduce maintenance of facilities. The high quality of materials and the great care used for their workmanship also guarantee a long service life.
The high performance level achieved by all the ranges of rails results of the close contacts that Fels has maintained over the years with the many manufacturers, installers, and end-users of such equipment.
CLIENT SERVICE:
In order to meet the increasing demand for services on the part of its clients, Fels has developed a capacity for listening and quick reaction within its organization. Each client is provided with permanent and personalized assistance and follow-up. We insist on maintaining close contact, in order to make the commercial and technical transactions, as much productive as possible, and leading to improved quality in the interest of both parties. Service quality is indeed recognized by clients as one of our main advantage. When it comes to services, Fels also supplies the energy right down the line !
A BROAD RANGE OF REFERENCES:
Since it was launched, the Mobilis Elite electric rail has proved its efficiency in all sectors where top-quality mobile electrification is required. Fels has supplied its equipment to customers in myriad plants throughout Europe and the world, proving that this leading-edge equipment can be adapted to many applications: the car industry, aeronautics industry, chemicals, railways and energy industries – everywhere where travelling cranes are essential.
With its network of partners, selected because they share the Fels philosophy in terms of quality and service, Fels has broken into the market on all five continents, providing and efficient, reliable service for companies in all sectors.
2. DATA NEEDED TO SELECT EQUIPMENT
The following data must be known in order to define the intensity of a MOBILIS line:
Maximum intensity in continuous operation, or failing this power and types of receivers (cage or slip-ring motors, electronic starters, resistors)
Receiver start-up intensity
Maximum ambient temperature
Maximum clearance between a receiver and the nearest feeding point
Permissible voltage and voltage drop in continuous operation and on start-up
Type of current (frequency, voltage)
Running cycle of the receiver (duty cycle, or operating time per 10-minute cycle).
In addition, review the following options to find out the most appropriate solution:
Installation with more than 5 conductors: select Mobilis Movit or arrange 2 Elite lines in parallel
Installations with curves and a radius shorter than 15m, or transfers between different circuits: select Mobilis Elite
Installations with mobile speed greater than 180m/min: choose Mobilis Movit
For all other configurations, calculate intensity to select the best equipment.
⇒ All the above features along with the calculation of intensity (see below) will help you determine which range is most appropriate to your needs, Elite 12A-200A Range or Movit 315A-630A Range,
The first selection criteria to be considered being the permissible current for Mobilis rails, which must be higher than the installation intensity, and the second criteria being the voltage drop involved.
You may also use the Online Calculation Tool on our website: www.fels.fr
The details above can also be used to fill out the Consultation Sheet for assistance by our Engineering Office.
4. LINE CALCULATION:
See the section Line calculation,
5. OBSOLETE EQUIPMENTS
See the section " Historical ranges "
6. GUARANTEE :
Our equipment is guaranteed one year against any material or manufacturing defect recognized by ourselves. As we are not responsible for its installation and operation, our guarantee covers only replacement or repair (at our own choosing) of the part recognized to be defective.
We do not accept responsibility for any defects arising from faulty supervision or maintenance. We also disclaim liability for any production stoppages that may result. Any arbitration shall be held in Strasbourg, even when several defendants are involved.